We know that running a business can be hard and sometimes lonely
You deserve to be more successful now.


SUBSCRIBE TO THE PODCAST
On the Good Money Podcast we believe money is not bad and good people should have more of it. 
We help business owners and entrepreneurs, just like you, build their business AND build their wealth so they can do more good!
That's why each week we give you access to the best business minds. We bring you insightful interviews, impactful stories, and the inspiration you need so you can build the business you want and enjoy more meaning and freedom in your life. 
SUBSCRIBE TO THE PODCAST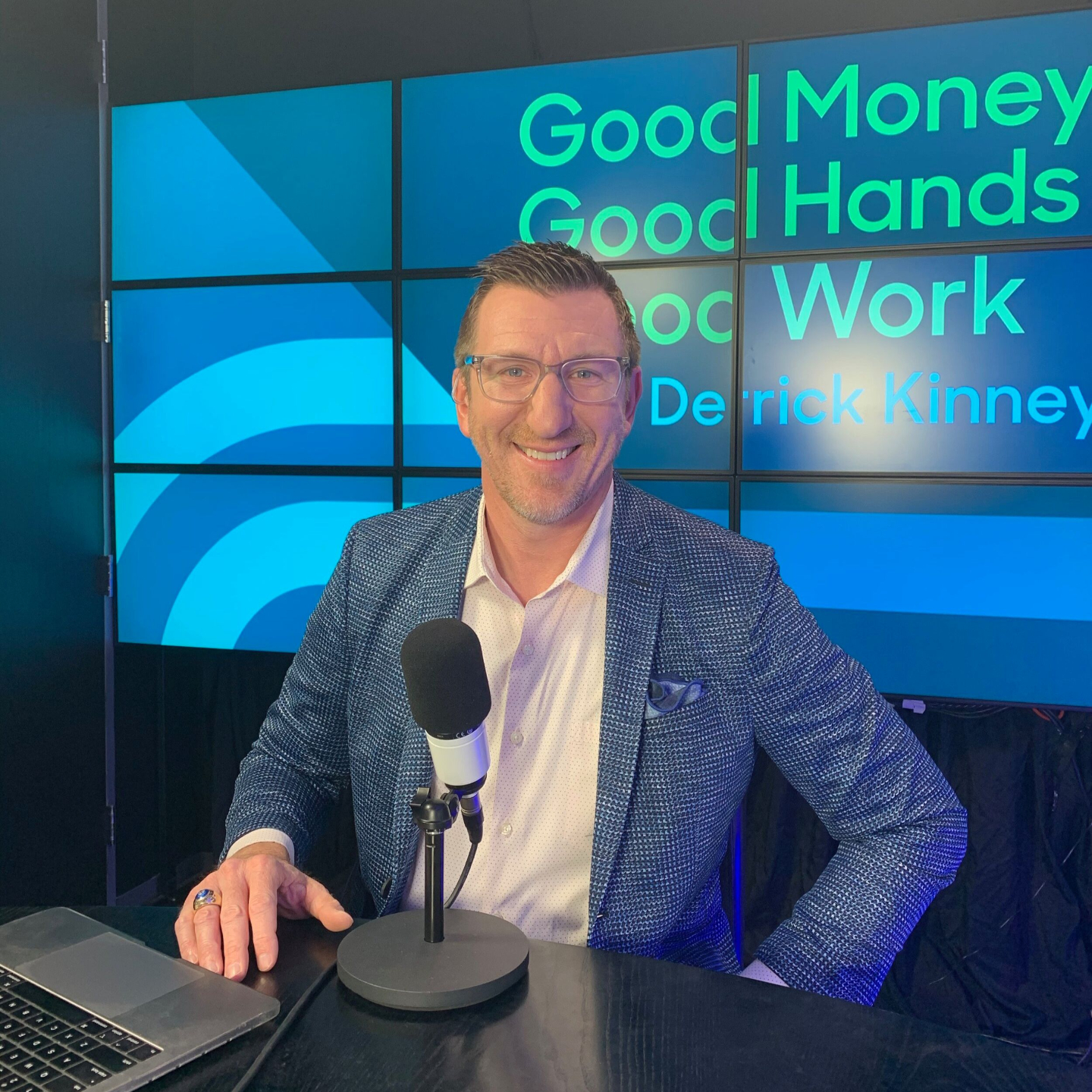 Get access to Derrick's incredible guests as they share practical wisdom and profitable business and money advice they've never shared anywhere else. 
"Derrick, I really enjoyed being on your show. You are great!"
–Ed Mylett, National best-selling author and global speaker
"The Good Money Podcast should be required listening for every business owner–or at least those that want to grow and make the world better!"
-Sharon McMahon, host of the top-rated Here's Where It Gets Interesting Podcast
"Each Good Money Podcast episode is another key that unlocks more business growth. Every business owner should listen to this podcast."
–Jon Gordon, 12x Bestselling Author of 24 books, including The Sale and The Carpenter
Plus thought leaders that say it like it is, like...
Daymond John
CEO of FUBU and The Shark Group, TV Personality on ABC Shark Tank
"Honored to sit with my friend Derrick and share my business strategies and personal experiences."
John Acuff
New York Times Bestselling Author of 7 books
"Listen every week to Good Money. Your business and your team will thank you."
Mel Robbins
Author of the International Bestselling Books, The High 5 Habit and The 5 Second Rule
"Derrick, you are an excellent podcast host. I loved our time together."
Bob Burg
Speaker & Bestselling Co-Author, The Go-Giver Series
"Good Money is one of the best business podcasts in the country."
Plus, experts you've probably never heard of, but will give you the practical strategies to build your wealth and impact the world with your business.
1,500+ 5-Star Reviews
With over 1,500+ 5-star reviews, the Good Money Podcast delivers interviews, stories, inspiration, and access to the world's best business minds straight to your favorite podcast player.
My go-to for money guidance!
The Good Money podcast dives into some of the toughest aspects about finance, entrepreneurship, goals and life, and provides tangible ways for us to make positive changes in our lives. After every episode, I feel renewed with hope and support. The guests are so thought out and the questions are intentional. This is by far my favorite podcast!
- mnvsal
Love the positive vibes of these episodes
Entrepreneurship is tough. It is rewarding but we know the success rate is not high. These stories inspire and motivate. Most of all, the message is about doing GOOD! Love it. Support it. Want to promote it!
- lokdinmyhous
Really Enjoy It!
I am a bit of a podcast junkie, but I have not come across one as unique as this one! I love the variety of different guests and how it's not all financial gurus. I have a lot to learn in the realm of finance, and this podcast is very helpful! I can understand it and be entertained. A win win!
- KelseyMSmith

I have learned so much!!
This is something that everyone needs to hear! As someone who is WAS not very financially literate, I feel more comfortable going into my entrepreneurial career after listening to Derrick! He keeps it real and brings up topics many financial experts shy away from. He also brings AWESOME and wise guests on! Not a waste of your time, but rather, a great investment!
- Carlie Lara

The money podcast we all need
Thankful for Derrick Kinney sharing his wealth of knowledge and helping us change our view of money and become better stewards of it. Love the variety of guests on the show. Every episode is a gem!
- Coach Katie Smith
Such a good resource!
This podcast is a valuable resource for young adults to help us be aware and make active decisions regarding money that will set us up well for years to come!
- mrheodheenme
Our goal?
You finish each episode thinking, Wow. Derrick delivered again.
As a business owner or entrepreneur, I know you want to be happier, more successful, and enjoy a life of meaning and significance.
It's time for you to be confident and in control of you and your business' financial future. The Good Money Podcast will give you the tools you need.
SUBSCRIBE TO THE PODCAST